TIPPING
My first truck was this D1614 Ford tipper, bought through Stormonts of Hildenborough when Willard Transport of Borough Green packed up. I had loaded this tipper many times with concrete and hardcore at Stangate Quarry, so it was an old friend. Seen below loading ragstone at Offham Quarry, now a landfill site.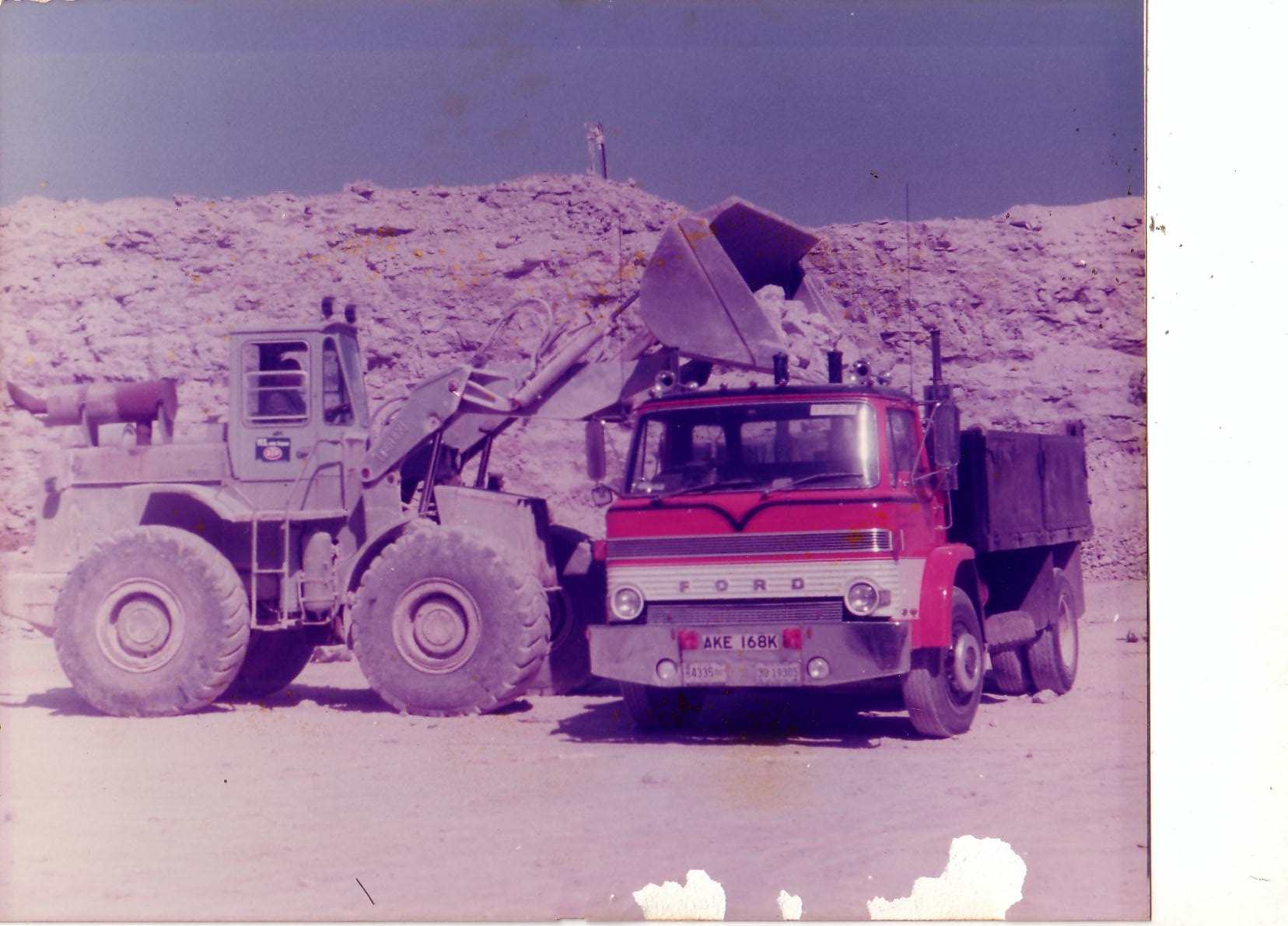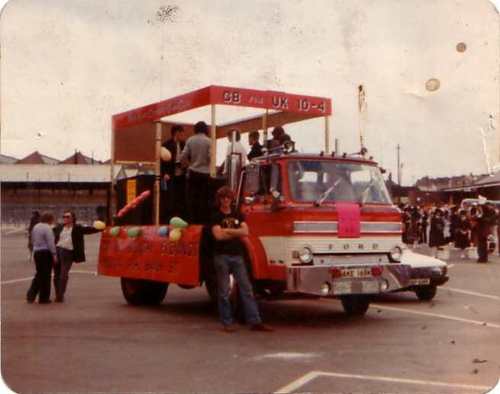 I always seem to end up as a campaigner, and even in those days there was always a wrong that needed righting. Here my local CB Radio Campaign Group are waiting for the start of the Maidstone Carnival. We also demonstrated in London with truck convoys, and after a particularly exciting rally in Trafalgar Square, I got arrested outside Downing St.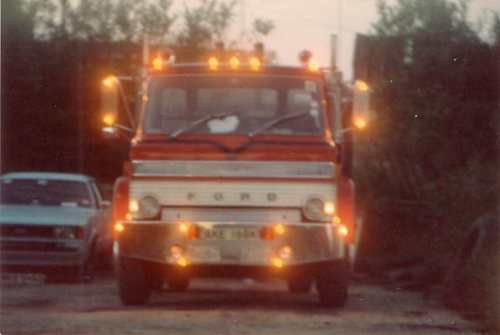 Yeah, I know it was a bit over the top, particularly as in those days most truck customising involved putting a Shell sticker on the bumper. I used to get interesting bits from the Van Shop in Roman Rd in the East End, or Truckers Paradise in Marshalsea Rd.
One of the more interesting, (and lucrative) jobs I got involved in was for Tilcon Mortar in Sevenoaks, running a sand/cement mix to a power line contract in London. Now someone had the brilliant idea, because you can't put HV pylons up, to run the cables underground with cooling pipes alongside. And what better route than on canal banks. The trench was dug on the towpath, cable and pipes laid, cooling water drawn from the canals, the whole thing covered in our sand/cement, and capped with concrete slabs that made a beautiful new towpath. The only practical way for the contractors to move materials was by barge, and we met them at some very peculiar little wharves. The picture above is taken on a wharf just south of the Bow Flyover, on the Grand Union canal, and Paddy in the digger is actually rowing the barge with his 360 !!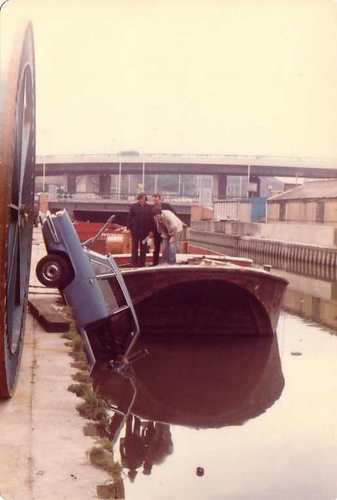 The sight above greeted us on arrival one morning at Bow: someone had driven down the slip road to the wharf, and had driven straight in! I bet that sobered him up, or dampened his ardour. No sign of the occupants when we arrived.
Sample Photo 5
This is my Ford coming up out of the hole after loading building sand at Borough Green Sandpits, then owned by Dennis Smith of Strood, but since taken over by Roger Body, another famous local haulier.
Tipper work started to dry up towards the end of the 70's, so I hired this Merc from a pair of characters in Charing called Vant, operating as I thought as J&S Contractors. They had extensive contracts in bulk work, and I suddenly found myself whizzing all over the country carrying soya from Erith, peas from Dover, coal from Tilmanstone and Snowden, stome back out of the Midlands and South Wales. I even managed a couple of real cliches: Coals to Newcastle,( well Houghton really, Tilmanstone mined a good coking coal), and fish to Grimsby. ( sprats straight off the boats at Whitstable Harbour, and taken to Grimsby Fishmeal plant: you didn't need a map to find that place, just follow your nose).
Along with several fellow owner drivers, I found out too late that the Vant Brothers were operating a very interesting scheme where we were working for their company A, they were invoicing the customers from company B, so no money in A. By the time we found out, they had started company C and were doing the same scheme with a new set of drivers. They seemed quite stunned that we ,( and the Ministry and Police) throught the scheme wasn't strictly legal.
With the help of a lot of good friends, in particular John Steward, and the late Kieth Noakes, we got back on our feet, and moved into general haulage mainly with Medway Transport at Strood Docks, a subsidiary of Hasleden Transport.
Feel free to download and use images.